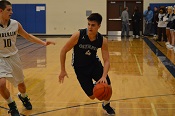 ---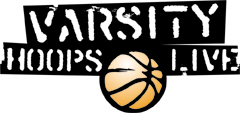 Bush Leads Timberline in 4th to Punch Ticket to Regionals
By Steve Dion
Wednesday- February 17th
2016
Boys
4A
West Central District 3
Stadium High School
1st
2nd
3rd
4th
Final
Olympia
17
11
14
14
56
Timberline
15
11
22
18
66
---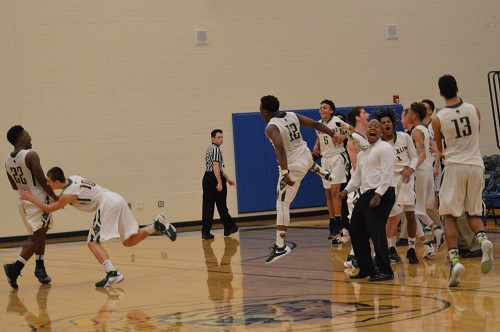 Timberline Blazers
In the second of two consolation match-ups in the West Central District 3 tourney at Stadium HS on Wednesday night, Timberline and Olympia squared off for the third time this season. Olympia won the first two, but Timberline was able to capture round three which earns the Blazers a berth in the regional round next week.
Oly held a narrow two-point lead at the break with Hunter Sipe finding a rhythm recording 10 of his team-high 15. The size advantage for Timberline was evident early as Jaelen Bush finished at the rim with regularity. Like the first two match-ups in the regular season, Olympia coach John Kiley stated, "This was a classic Olympia/Timberline battle and little things made the difference in the end."
The Blazers started to take control of the game late in the third quarter when Erik Stevenson fired his team up with emphatic blocks on the defensive end and a three at the horn before the final frame. Needing a late surge, Liam Murphy knocked down a three with a foul for a four point play. However, Jarryn Bush scored tough buckets down the stretch as part of his game-high 21 to pull away and secure a Timberline win. When asked about moving on to regionals again, Bush said, "It feels just as sweet this year now that it's my senior year." He added, "All respect goes out to Olympia High School. That is probably the best defense I've personally seen." Bears Coach Kiley talked about his team's memorable season stating, "From May 31st when I took over the program, the kids bought in completely and I can never thank the seniors enough." When asked about what he told his team in the locker room, Kiley responded, "I told them two things. I told them that I am extremely proud of them. And I told them that I loved them."
With the win, Timberline will play Kentridge on Saturday at Mt. Tahoma High School at noon to determine the fifth and sixth seeds from West Central District three. From there, the Blazers play in a must-win game that would advance them to the Tacoma Dome.
The Final Score
Timberline 66, Olympia 56.
Top Performers:
Timberline
Jarryn Bush- 21 points
Olympia
Hunter Sipe- 15 points