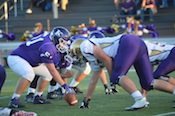 | Thursday | Sep 8th | 2016 | 4A/3A WesCo | Boys | Football |
| --- | --- | --- | --- | --- | --- |
| Goddard Stadium | 1st | 2nd | 3rd | 4th | Final |
| Kamiak | 7 | 0 | 7 | 7 | 21 |
| Oak Harbor | 14 | 14 | 13 | 14 | 55 |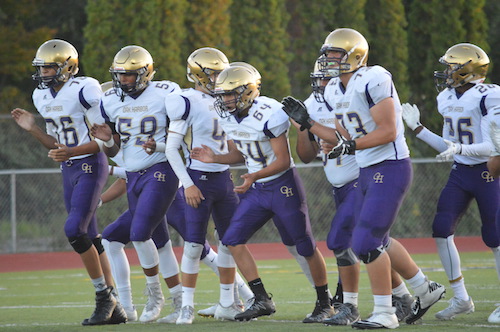 See game recap below
---
Oak Harbor's Powerful Ground Game Shines in Win Over Knights
By Steve Dion
A light slate of games to kick off week two of the high school football season took place Thursday included a WesCo clash featuring the visiting Oak Harbor Wildcats and host Kamiak Knights at Goddard Stadium. Both teams won in their season opener; which squad would push their record to 2-0?
Oak Harbor was off to the races early as they intercepted Kamiak on the first play of the game. This led to a 46-yard rumble to the pylon by Princeton Lollar Jr. who lived in the endzone all night long. Kamiak responded with a 5-yard strike from Matt Merk to Ben Barton.
However, the Wildcats powerful running game with Taeson Hardin and Lollar started to take its toll on the Knights defense and they started to take a control of the game. They led by three scores at the break.
As the second half wore on, the push up front by the staunch Oak Harbor offensive line helped the offense sustain drives and finish in the red zone. The Knights found the endzone twice more, but they could not surmount the massive lead accumulated by the Cats. Oak Harbor finished with over 600 yards on the ground and looks tough. The Wildcats 2-0 start may just be the tip of the iceberg for Coach Jay Turner's bruisers from Whidbey Island.
The Final Score:
Oak Harbor 55, Kamiak 21.
Top Performer
Oak Harbor
Princeton Lollar Jr.- 3 TDs
Taeson Hardin- 3 TDs