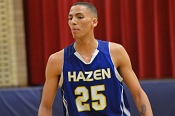 ---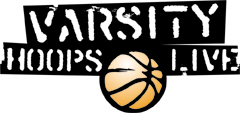 Kennedy Grabs Top Spot in Seamount with Victory Over Hazen
By Steven Dion
Wednesday- January 7
2015
Boys
3A
Seamount
Kennedy Catholic High School
1st
2nd
3rd
4th
Final
Kennedy Catholic
12
14
20
18
64
Hazen
15
12
13
16
56
---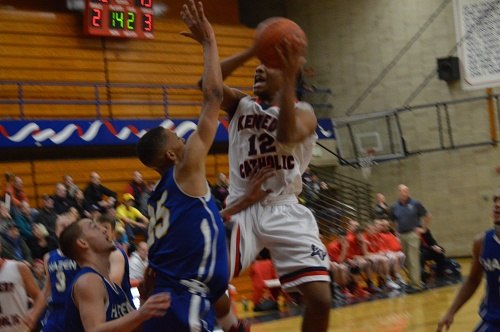 Kennedy Catholic Senior AJ McGrew
There is no mistaking a rivalry game when you see one, especially when the teams are undefeated in league play. This was the case Wednesday night as Kennedy would host Hazen which would determine a new leader in the Seamount standings. Neither squad was too keen to find themselves in the second spot.
Hazen kicked off the contest draining shots from the perimeter giving them a quick 9-3 lead which prompted a Lancer timeout by Don Hoffman. His team responded by distributing the ball to several KC playmakers including AJ McGrew, James Jolly, and Emilio Mancol. Hazen wing Jalen Green was forced to leave the game in the first quarter after landing awkwardly. The Highlanders' reliance from downtown started to allow Kennedy to rally when the shots were not falling as often later in the first half. Meanwhile, the Lancers capitalized on numerous second chances on the offensive end to close out the half trailing by a single point at 27-26. The way that each possession appeared to result in a lead change was a good sign the crowd was in for an exciting finish.
The pace of the game jumped up a few notches to start the third quarter especially in the physicality between the two teams. Hazen captain Connor O'Hearn was in the mix of possession battles but kept a calm demeanor on the floor. Kennedy was fueled by the skirmishes and strung together a big run through the majority of the third quarter. A key play in the game was a monster block by HHS wing Dominic Green that bounced to McGrew who made a putback and one. Green responded with a three-pointer at the third quarter buzzer, but the damage was done. Kennedy led by a half dozen heading into the fourth.
Michael Sasonoff and James Jolly helped grow the lead to double-digits in the final quarter and were able to clamp down on defense. Their ability to limit Hazen scorers other than Green to 10 points in the second half was a difference maker in the contest. Even with a late run by Hazen, Kennedy had enough to secure a big home win to take first place in the league.
The Final Score: Kennedy Catholic 64 Hazen 56
Top Performers:
Kennedy Catholic
Michael Sasonoff-14 points/AJ McGrew-13 points
Hazen
Dominic Green-23 points