---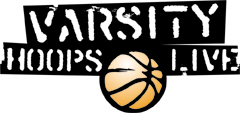 Inglemoor Prevails in Nailbiter Over Blanchet
By Steven Dion
Monday- January 5
2015
Girls
4A/3A
Non-League
Inglemoor High School
1st
2nd
3rd
4th
Final
Inglemoor
13
16
14
9
52
Bishop Blanchet
17
6
14
13
50
---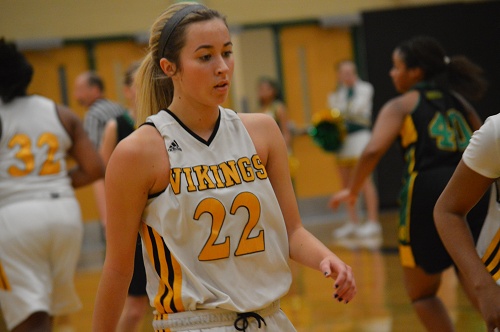 Inglemoor Senior Jordana Price
Monday night at Inglemoor High School provided a sneak peek of the kind of basketball seen at the Tacoma Dome in March as the host Vikings battled against the 2013 3A runner up Bishop Blanchet. Unfortunately, these top girls squads in the state will not have a chance to meet in the Hardwood Classic.
Blanchet was able to grab an early lead as three Braves players knocked down 3 pointers in the first quarter. It appeared that this was an integral part of Coach Willison's game plan due to the Vikings size advantage in the paint. Deja Stother accounted for 6 of the Vikings 13 first quarter points on high ball screens allowing her to attack the rim. However, Strother picked up her second foul late in the first forcing coach John Augustavo to place the senior center on the bench. Jordana Price was able to pick up the slack by burying a pair from downtown for 6 of her 14 big points in the game. The Braves offense stalled in the second frame and in doing so allowed Inglemoor to take the lead. Jadyn Bush fought through some pain from a collision under the hoop in the first quarter which limited her to 4 first half points, but the sophomore leader had a big second half in store as BB trailed by six at the break.
The pace of the game picked up early in the third quarter as both team were getting offensive production up and down the roster. Braves guard Taylor Chambers dished out some great passes to driving teammates and notched some points in the process. Strother picked up some assists in the form of full court heaves to Kennedy Nicholas and Amanda Luckett. Ella DiPietro helped Blanchet cut the lead to one point with 4 minutes remaining. Then, Bush converted on an and-one to give the Braves the lead. However, Jordana Price came up clutch with a three-ball with 38 seconds remaining. This would prove to be the winning score as Inglemoor held onto the slim lead they regained. An exciting finish between the best the state of Washington has to offer!
The Final Score: Inglemoor 52 Bishop Blanchet 50
Top Performers:
Inglemoor
Deja Strother-17 points/Jordana Price-14 points (4 3-pt FGs)
Bishop Blanchet
Jadyn Bush-15 points (5/6 FTs)