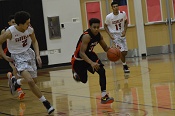 ---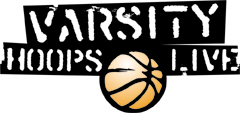 Davis Rallies, But Cleveland Hangs on for Non-League Win
By Steven Dion
Saturday- December 20
2014
Boys
3A/4A
Non-League
Cleveland High School
1st
2nd
3rd
4th
Final
Cleveland
19
17
12
18
66
Davis
7
15
17
20
59
---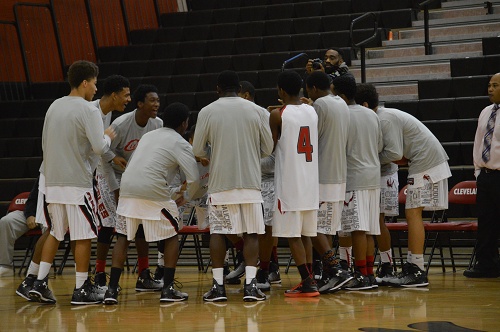 Cleveland Eagles
Saturday afternoon included a contest with 3A against 4A in Cleveland and Davis. The Pirates based out of Yakima won the 4A state championship in 2012 and have regressed since that memorable run. However, some of the members of that title squad are still on the roster as upperclassmen so Davis is still a quality basketball team. Cleveland has struggled to remain competitive in the highly talented Metro League in recent years, but appear to be headed in the positive direction this season. Would Davis be able to get two wins in as many days or would Cleveland prevail on home court?
The pace of this game got off to a fast start as both teams were eager to score in transition. The advantage of size in the paint for Cleveland was evident early as the Eagles rebounded well on both sides of the floor. In addition, they were able to get plenty of quality shots in the paint which translated to leading by a dozen after one quarter of play. The Pirates started to chip away at the early deficit they found themselves in primarily in the perimeter shooting of Nick Navarro. The sharpshooter buried 6 triple in the contest en route to his game-high 20 points. CJ Elleby earned a handful of trips to the free-throw line which he converted as his tenacity helped Cleveland extend their lead to 36-22 at halftime.
Davis was committed to make their road-trip worthwhile as the Pirates increased their second-half intensity to cut the Eagles' lead. The home team had some foul trouble and turned the ball over to give DHS multiple opportunities to score on offense. The lead started to dwindle and by the end of the third quarter, the difference was nine points. Cleveland's Nico Buchanan went 6 for 6 from the charity stripe in the final frame to protect the lead. Navarro scored another pair of buckets from downtown to cut the lead to a mere 4 points. This game was still unsettled even though Cleveland led from the opening tip! However, Townsend and the Eagles closed the door by knocking down clutch buckets down the stretch as the Davis shooting starting to cool off. When the buzzer sounded, the home team picked up a quality win against a 4A team by 7 points.
The Final Score: Cleveland 66 Davis 59
Top Performers:
Cleveland
Malik Townsend-16 points
Davis
Nick Navarro-20 points (6 3-pt FG's)