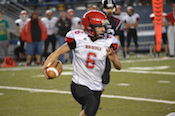 | Saturday | Nov. 29 | 2014 | 1B | Boys | Football |
| --- | --- | --- | --- | --- | --- |
| Tacoma Dome | 1st | 2nd | 3rd | 4th | Final |
| Neah Bay | 0 | 20 | 0 | 6 | 26 |
| Lummi | 6 | 6 | 8 | 0 | 20 |
Game Recap below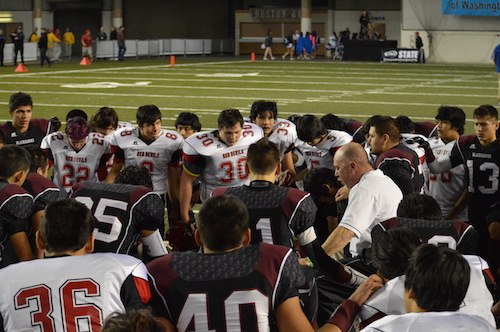 Neah Bay Grinds a State Semifinal Win over Lummi
By Colin Caruso
In their third matchup this season, in 8-8 football (a ton of fun, I encourage you to catch a game) the Neah Bay Red Devils faced off against the Lummi Blackhawks for a trip to the state finals. Neah Bay won both previous matchups by a 12 point margin in both games, but Lummi was looking to knock off the defending champs.
Lummi started the scoring in the first quarter with an Austin Brockie 1 yard run. But it was Neah Bay's second quarter that really changed the course of this game. Three scores for the Red Devils, one with Cole Svec's arm and one with his legs, along with a fumble recovery gave the Red Devils an 8 point lead heading into the second half.
Lummi answered in the third with a needed Hank Hoskins 2 yard run, he was great for the Blackhawks all day and had two scores in the game. But Neah Bay wore the Blackhawks out. Hoskins went down with a cramp and was gassed going into the fourth quarter. Neah Bay capitalized on a Cameron Buzzell 28 yard catch, proving to be the final score of the game.
The Red Devils advanced to the state finals for the fourth season in a row!
The FinalScore – Neah Bay 26, Lummi 20.
Top Performers:
Neah Bay
Cole Svec – 18 carries for 90 yards and 1 TD, 68 yard passing TD
Lummi
Hank Hoskins – 12 carries for 55 yards and 2 TD