| Saturday | Oct 1st | 2016 | 4A SPSL | Boys | Football |
| --- | --- | --- | --- | --- | --- |
| Carl Sparks Stadium | 1st | 2nd | 3rd | 4th | Final |
| Puyallup | 0 | 14 | 14 | 7 | 35 |
| Sumner | 20 | 21 | 14 | 21 | 76 |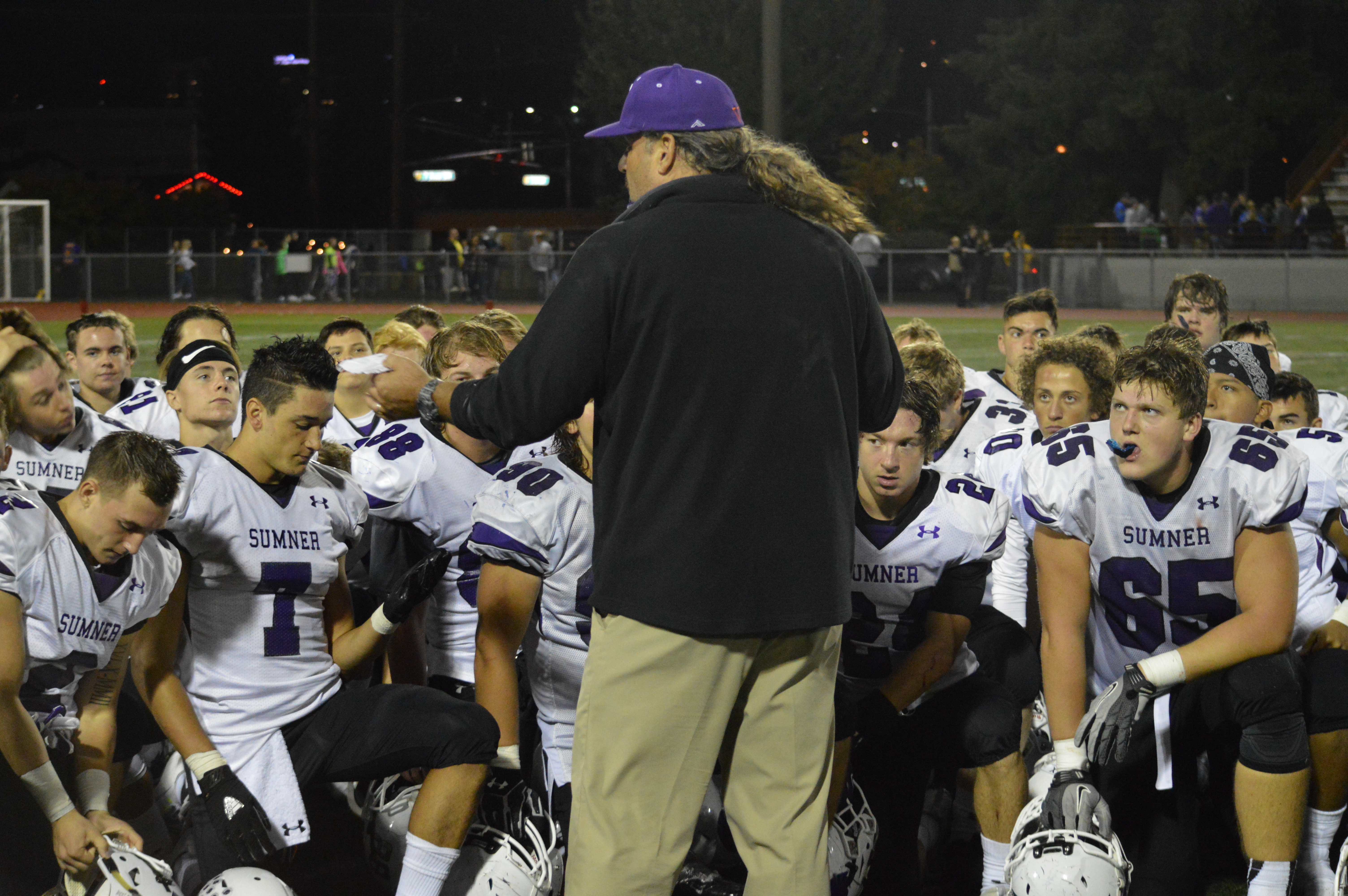 See game recap below
---
Sumner Lights Up Saturday Night Scoreboard, Improves to 5-0

By Steve Dion
If there is any doubt about the firepower of Sumner this season, their dramatic win in week four against Graham-Kapowsin made a statement about their place at the top of 4A. Following a 77 point effort over South Kitsap and a passing touchdown record by Nathaniel Holcomb, Puyallup was hungry to hand Sparty their first defeat of the season.
Sumner bolted down the field on the first drive of the contest which capped off with an 11 yard corner route in the back of the endzone which receiver Tre Weed climb the ladder for. The junior wideout finished with 4 scores.
The Spartans scored three more touchdowns before Puyallup found the scoreboard, on of which a 70 yard fumble recovery for touchdown by Alexander Zaragoza.
Before the first half concluded, Puyallup tailback Honore Thomas punched in a pair of goal line touchdowns. At 41-14 could the Vikings rally?
The contest reached its breaking point early in the third when Connor Wedington busted loose for a 70 yard scamper, unfortunately a penalty negated the score. However, Coach Ross dialed up another run play for the University of Washington recruit on the next snap which he took 63 yards.
The scoring for both teams bounced back and forth until the conclusion of the contest, but Sumner had built a massive lead which was never jeopardized. A decisive victory for the 5-0 Spartans was the finished product with a tough Olympia Bears team next on the schedule. Puyallup falls to 3-2 with Graham-Kapowsin up next on the schedule.
The Final Score:
Sumner 76, Puyallup 35.
Top Performer
Sumner
Connor Wedington- 4 rush TDs (2, 6, 60, 61)
Tre Weed- 2 rush TDs (8, 46) 2 rec TDs (11, 32)
Puyallup
Honore Thomas- 3 rush TDs