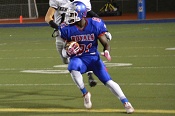 | Friday | Oct 16th | 2015 | 4A SPSL | Boys | Football |
| --- | --- | --- | --- | --- | --- |
| French Field | 1st | 2nd | 3rd | 4th | Final |
| Eastside Catholic | 14 | 21 | 13 | 6 | 54 |
| Bishop Blanchet | 6 | 0 | 0 | 0 | 6 |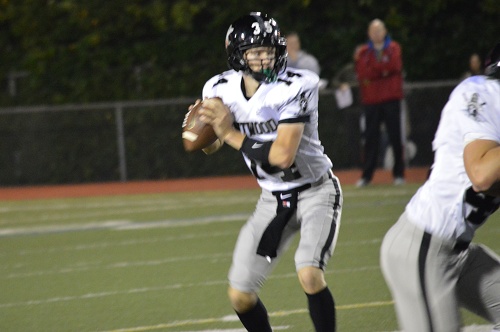 See game recap below
---
Kentwood Maintains Divisional Dominance
By Steve Dion
The Conks have been a force to be reckoned with for several years and have established themselves once again as a top dog in the 4A classification. However, the other Kent schools that share French Field appear to be gradually closing the gap. Kent-Meridian stepped up to the plate with an opportunity to grab a crucial win against the division-leading Conquerors. The pregame events concluded with a firework show and proved to be a symbol for the style of game out of the chutes.
Within the first four minutes, there were three interceptions. This frenetic start for both offenses led to limited production early on. KW struck first as senior tailback Isaiah Williams moved the chains several times and was rewarded with the game's first points. He deceived the KM defense by acting as a blocker on as quarterback Brian Campbell shifted to the left. Williams broke toward the left and Campbell found him uncovered and a short 5 yards from the endzone for six points. Kent-Meridian received a boost by Shamar Malik-Woollery as the running back/defensive back combo made an impact on both sides of the field. He took an interception back into deep Kentwood territory, but the Royals failed to capitalize. These would be the only points of the first half as the Royals failed to challenge the Conks red zone defense.
Kentwood's Connor Benson took the opening kickoff of the second half 80 yards which eventually set up Campbell for a 3 yard quarterback sneak touchdown. Davonte Sanchez led the Conqueror defense with a toughness that limited KMHS offensive success. It wasn't until the fourth quarter when Kent-Meridian punched it in to avoid the shutout, but the fate of the game was sealed. The Conks secured a comfortable 28-7 victory and continue to dominate the SPSL Northeast division in 2015.
The Final Score:
Kentwood 28, Kent-Meridian 7