---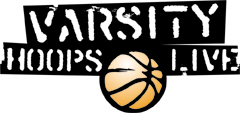 Saturday- Feb. 16
2013
– 3A –
SeaKing
District
Bellevue College
1st
2nd
3rd
4th
Final
Seattle Prep
6
6
15
9
36
Cleveland
13
8
4
12
37
---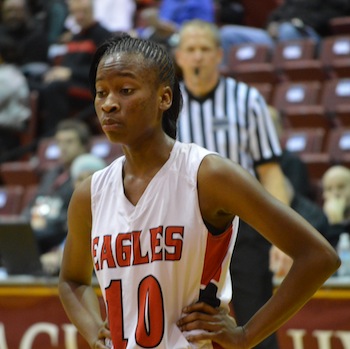 Girls- Cleveland sneaks by Seattle Prep and wins Sea-King 3A District Title
By Colin Caruso
In a rematch of the Metro championship, the Seattle Prep Panthers faced off against the Cleveland Eagles.  Cleveland began the game on a 13-4 run, controlling the pace of play and executing in transition.  The Eagles stifling defense held the Panthers to just six points in the quarter, and Cleveland took a 13-6 lead into the second.
The Panthers still couldn't get their offense on track in the second quarter.  Six turnovers in the period for the Panthers and again they scored just six points; give the credit to the full court defense by the Eagles and not allowing Prep to use their size in the interior.  Cleveland also struggled from the field in the second, committing five turnovers and making just two shots.  Cleveland took a 21-12 lead into halftime.
The seal was removed from the basket for the Panthers in the third.  Prep controlled the quarter and outscored the Eagles 15-4, crashing the offensive glass and capitalizing on second chance points.  The Panthers zone began to cause Cleveland problems, forcing the Eagles into deeper contested shots that did not fall.  Senior Holly Tonry led the comeback for the Panthers with a quarter high six points.  Prep took their first lead of the game on a three by junior Mary Ann Santucci, and closed the quarter ahead 27-25.
The final quarter was close throughout, with the lead changing hands multiple times.  Prep struggled again from the field, making only two shots in the quarter, both from Tonry.  Cleveland snagged the lead from the Panthers with a free-throw from Myzhanique Ladd, 35-34 with 1:46 remaining.  Prep answered with two free-throws from senior Michaela Carew, taking the lead back with 13 seconds to play.  Ladd drove on the final Eagle possession, got fouled and went back to the line.  She sunk both free-throws with five seconds left and closed out the contest, 37-36.
Top Performers:
Seattle Prep
Holly Tonry (11 points, 3 steals)
Quinn Glosniak (6 points, 8 rebounds)
Mary Ann Santucci (7 points, 3 blocks, 3 rebounds, 3 steals)
Cleveland
Makayla Roper (13 points)
Jayde Christopher (7 points, 4 steals)
Myzhanique Ladd (9 points)