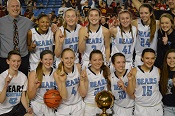 ---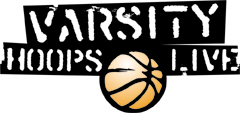 Central Valley Goes Undefeated, Wins 4A Title
By Colin Caruso
Saturday- March 5th
2016
Girls
4A
Championship
Tacoma Dome
1st
2nd
3rd
4th
Final
Snohomish
9
8
13
18
48
Central Valley
12
10
13
22
57
---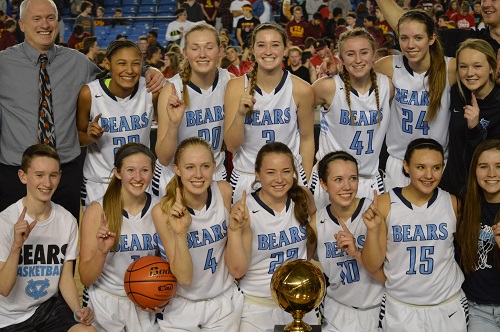 4A Champions – Central Valley Bears
In a battle of two teams on incredible winning streaks, the Central Valley Bears took on the Snohomish Panthers for the 4A girls state championship. The Bears came into this game a perfect 28-0, and the Panthers, after losing their first three games, were riding a 23 game winning streak into this finals matchup.
Snohomish started the game in an interesting defensive matchup, with their tallest starter, Madeline Smith, guarding the Central Valley PG Mady Simmelink. Smith rarely left the key on the defensive side, giving Simmelink wide open looks. She capitalized with 5 first quarter points and Central Valley took a 12-9 lead into the second quarter.
The undefeated Bears began to pull away in the second, extending their lead to 11 and picking up their defensive intensity. But Snohomish would not quit; they are older and bigger than the Bears and they used their size to convert a few layups down the stretch before half. Central Valley took a 5 point lead into the locker room.
Madeline Smith for the Panthers began to take over after the half. She went on a personal 10-0 run, and halfway through the quarter she had 25 of her teams 30 points. The underdog Panthers tied the game later in the frame, looking to take their first lead since early in the first. But Lexie Hull responded for Central Valley, adding in a couple of short layups for her team leading 13 points. Even with Madeline Smith's dominate performance, the lead remained 5 for the Bears, 35-30 entering the final quarter.
Snohomish began the 4th on a 5-0 run, tying the game again. But every time Snohomish tied it up, Central Valley would respond. This time it was Lacey Hull, Lexie's twin, who knocked down a momentum shifting three pointer. The Bears never looked back. They completed their perfect 29-0 season with a well deserved 57-48 championship win!
The Final Score
Central Valley 57, Snohomish 48.
Top Performers:
Central Valley
Lexie Hull- 16 points, 8 rebounds
Snohomish
Madeline Smith- 28 points