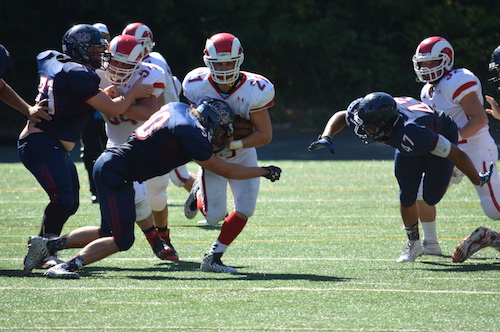 | Saturday | Sept. 6th | 2014 | 3A/4A | Boys | Football |
| --- | --- | --- | --- | --- | --- |
| Memorial Stadium | 1st | 2nd | 3rd | 4th | Final |
| West Valley-Yakima | 0 | 0 | 0 | 0 | 0 |
| Mt. Spokane | 10 | 0 | 7 | 7 | 24 |
Game Recap below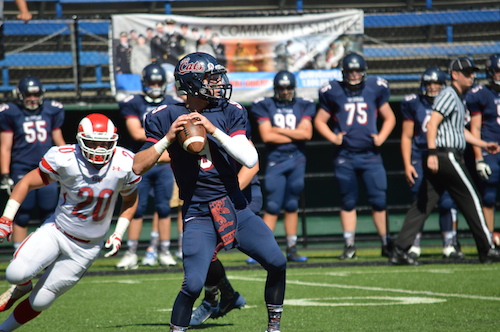 Mt. Spokane Shuts Out West Valley-Yakima
By Colin Caruso
In a battle of two teams on the east side of the mountains, the Mount Spokane Wildcats faced off against the West Valley-Yakima Rams. On paper this looked like a good matchup; big lines facing off, accomplished skill position players on both sides, but it was nothing of the sort.
Mt. Spokane got off to a quick start, scoring 10 unanswered in the first quarter, and playing stifling defense. Dalton Dixon and Jacob Sander for the Wildcats both recorded over 6 tackles, shutting down the West Valley running game early.
The domination continued into the second half, with Mt. Spokane controlling the line of scrimmage. Despite being a little undersized the Wildcats forced West Valley quarterback Luke Atterberry to rush a number of his throws, holding him to just 71 yards of total passing on the day.
With a strong third and fourth quarter, the Wildcats put together a convincing 24-0 victory. The crowd on both sides expected more from West Valley, but Mt. Spokane did a great job of speeding up the game and making great open field tackles.
Top Performers:
West Valley
Luke Atterberry – 10.5 tackles
Mt. Spokane
Dakota Hipes – 6 carries for 48 yards and a TD, 4 catches for 71 yards and a TD