Tag Archives:
tumwater- noah andrews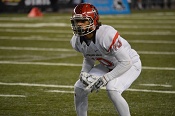 | Saturday | Nov 28th | 2015 | 2A | Boys | Football |
| --- | --- | --- | --- | --- | --- |
| Tacoma Dome | 1st | 2nd | 3rd | 4th | Final |
| Tumwater | 0 | 7 | 10 | 7 | 24 |
| Archbishop Murphy | 0 | 21 | 0 | 0 | 21 |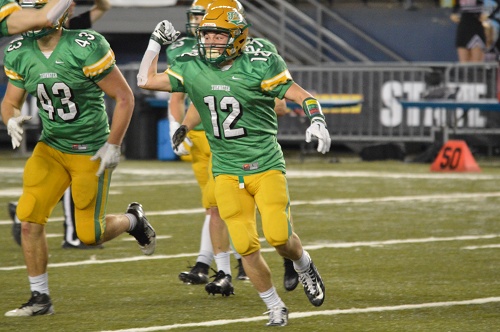 See game recap below
---
Tumwater Pitches Second Half Shutout, Will Play for 2A Title
By Steve Dion
The Tacoma Dome has become a second home for Sid Otton and his T-Birds football team which he sends to deep playoff runs virtually every year. Archbishop Murphy is no stranger to late November football either as the Wildcats were the 2A runner-up in 2010 and 2011. With both teams boasting 12-0 records, who would win the penultimate game of the season?
A defensive struggle summarized the first frame as both teams failed to put any points on the board. Archbishop Murphy struck first when Bailey Singh-Ha hauled in a 32 yard pass from Connor Johnson. Exactly three minutes later, Wildcat tailback Anfernee Gurley notched a rushing touchdown. Tumwater's Noah Andrews made his first big play of the game by taking the ball 43 yards to the house to cut down the lead. AMHS went into halftime feeling good due to Connor Johnson's quarterback sneak for touchdown at the second quarter buzzer.
The Thunderbirds put the clamps on defense down in the second half by preventing the Wildcats from adding to their point total. But they had work to do. Cade Otton answered the call on a 21 yard touchdown early in the third. The game really began to hit the skids at this point as both teams refused to pull away. In the final minutes, Tumwater was down by four. It was gut-check time; touchdown or bust. After a THS timeout, Spencer Dowers executed the play discussed in the huddle perfectly; a quick toss to reliable Andrews who shed a few tackles and dove for the corner pylon. Touchdown! An elated Tumwater sideline breathed a big sigh of relief when the scoreboard read triple zeros after Aiden Slater brought down AM's quarterback on the final desperation play.
After the game, Coach Otton admitted this was up there with one of the best games he has coached. Noah Andrews said with "three minutes left and we're down, we're not really having a lot of hope. It's just never giving up." On the winning touchdown, he noticed the defender lost his balance and "I saw him dive at my feet, so I just put my hand down, and dove in." A play this junior leader will likely not forget anytime soon!
The Final Score:
Tumwater 24, Archbishop Murphy 21
Top Performer
Tumwater
Noah Andrews 25 rush, 102 yards, TD, 2 rec, 43 yards, TD (game-winner)
Archbishop Murphy
Anfernee Gurley 8 rush, 58 yards, TD, 5 rec, 140 yards