| Friday | Oct. 31st | 2014 | 3A | Boys | Football |
| --- | --- | --- | --- | --- | --- |
| Memorial Stadium | 1st | 2nd | 3rd | 4th | Final |
| Garfield | 0 | 7 | 0 | 0 | 7 |
| Bishop Blanchet | 3 | 14 | 0 | 14 | 31 |
Game Recap below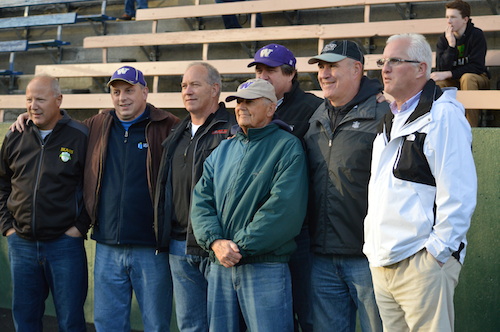 Blanchet's Big Fourth Quarter Earns Braves Fifth Seed, Bulldogs Sixth
By Steven Dion
For many in attendance at Memorial Stadium, it is probably hard to believe tonight marks the 39th anniversary of arguably the greatest high school football game in the history of the state between Bishop Blanchet and Garfield. Members of both teams from 1975 were the honorary captains during the coin toss including Bruce Harrell and Joe Steele. That game had nearly thirteen thousand fans in attendance and ended in the fourth overtime with BBHS the victor. This playoff game would not replicate the one from four decades ago.
Both squads were determined to run the football into the teeth of the opposition from the start. The Braves' featured back Oshea Trujillo has racked up nice numbers this season, but the Bulldogs have an improving front seven that kept him at bay early. Blanchet drew first blood on a 27 yard field goal by Liam vanLeynseele after the Braves drive stalled. Garfield had a difficult time moving the chains in the first half and had to continually return the ball to the green and yellow.
Blanchet struck again on a double reverse in which wideout David Gats hurled an 18 yard flair to Jack Sendelbach to put them up by ten. The lead grew when Davine Tullis tossed a dart to Sendelbach for his second score and a 17-0 lead. On the ensuing kickoff with twenty-two ticks remaining, the squib was recovered near midfield to give Garfield a chance to score. At the buzzer, Rashad Jones was in the endzone on a 35 yard post route to give the Bulldogs momentum heading into the locker room.
The third quarter was slightly less eventful as both teams refused to put up points and turnovers continued to pile up. The Bulldogs were trailing by ten heading into the fourth, but they couldn't take advantage of several scoring chances. A fumble recovery for touchdown at the eleven yard line of Garfield by Gats zapped the Bulldogs energy. Elijah Davis scored late to give BBHS their final points and a 31-7 victory. The Braves have captured the fifth seed and Bulldogs take sixth in Metro heading into playoffs next week.
Top Performers:
Bishop Blanchet
Jack Sendelbach LB/TE
14 Tackles, 2 for Loss – 1 Fumble Recovery
2 Receptions 33 yards, 2 TD's
David Gats
18 yd TD pass, 11 yd fumble recovery TD
Garfield
Rashad Jones – 35 yard TD Reception