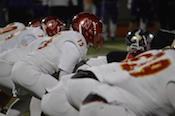 | Saturday | Nov. 15th | 2014 | 4A | Boys | Football |
| --- | --- | --- | --- | --- | --- |
| Lake Stevens High School | 1st | 2nd | 3rd | 4th | Final |
| Newport-Bellevue | 15 | 13 | 8 | 7 | 43 |
| Lake Stevens | 20 | 13 | 7 | 0 | 40 |
Game Recap below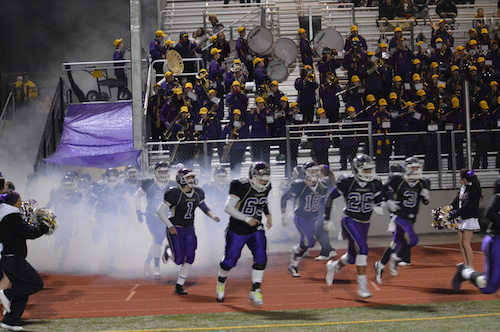 Newport Stuns Viks in Comeback Fashion
By Steven Dion
Momentum is an intangible, yet powerful force in football that plays a major role in the outcome of the game. When one team grabs a lead and puts together several big plays, doubt creeps into the minds of the opposition. Newport was able to keep cool (in freezing conditions) in several moments of the game even when Lake Stevens appeared to be in good shape to pick up the win. After the opening kickoff of the game, it was clear that everyone in attendance was in for a show.
Brandon Otis wasted no time putting the Viks on the board as the junior took the opening kickoff 90 yards to the house for six quick points. Minutes later, LSHS added seven more on a 19 yard run by Andrew Grimes. Trailing by 14 with only 4 minutes elapsed, the Newport sideline was reeling. However, the Knights took a deep breath and proceeded to run in a 45 yard score in the hands of the quarterback Jordan Sanberg. They converted on the two-point conversion and sprouted new life. The high scoring first quarter would close out with touchdowns for each squad by Paul Wells and Hunter Eckstrom for NHS and LSHS respectively.
The Vikings grabbed hold of the game by capitalizing on back to back scoring drives on another Grimes rushing score and passing touchdown from Jacob Eason to Riley Krenz after Newport fumbling. Could the Knights overcome another double digit deficit trailing 33-15? The red and white rallied again by closing out the second half with another long quarterback keeper by Sanberg and a 12 yard dash to the plyon by Wells at the buzzer. Lake Stevens led by a slim margin at the half 33-28.
The running game was the name of the game for both sides with a slight edge in execution to Newport as their ability to mask the ball carrier and ability to create space with their offensive line from guys like Calvin Throckmorton kept the Viks on their heels. The Knights surprisingly picked up the lead early in the third as Nick Keithley ran 4 yards up the gut for a score. However, Grimes notched his third touchdown shortly thereafter with a 4 yarder of his own. Trailing 40-36 heading into the final quarter, could the Knights erase the deficit one last time?
Paul Wells answered the call again as an 18 yard run gave Newport a 43-40 lead. Jordan Sanberg would pick off Eason putting NHS in the driver's seat to run down the clock. However, Lake Stevens recovered a fumble deep in Newport territory and were on the move. As the Viks were about to take the lead, a gang of Newport tacklers stripped the ball and needed a few first downs to kill the clock. They succeeded and came away with a shocking 43-30 win despite appearing dead in the water on several occasions. The Knights face Federal Way next week. FinalScore 43-40 Newport.
Top Performers:
Newport
Paul Wells – 3 rushing touchdowns (12, 18, 44)
Lake Stevens
Andrew Grimes – 3 rushing touchdowns (4, 19, 20)