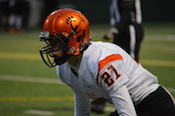 | Saturday | Nov. 8th | 2014 | 3A | Boys | Football |
| --- | --- | --- | --- | --- | --- |
| Memorial Stadium | 1st | 2nd | 3rd | 4th | Final |
| Central Kitsap | 7 | 3 | 14 | 0 | 24 |
| Roosevelt | 7 | 0 | 13 | 6 | 26 |
Game Recap below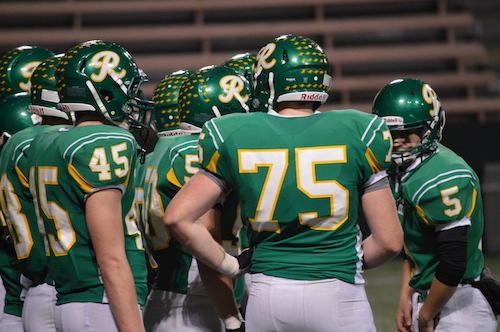 Roosevelt Survives See-Saw Ride with Central Kitsap
By Steven Dion
In a win-or-go-home scenario for a ticket to the 3A dance, representatives from the Narrows and Metro would duke it out at Memorial Stadium in Seattle. Both teams are far from familiar faces in the state tournament, so each squad entered this game with tangible enthusiasm to extend their season. The stage was set for a clash between the Roughriders and Cougars from the peninsula.
Roosevelt's biggest playmaker Ryan Gleeson tacked on the first points of the game as the senior rumbled for a 40-yard score. CK responded with a touchdown of equal distance to the tune of a Kelsey Deer reception by Kaleb Bates. The pace of the game slowed down as the first half rolled along until the Cougs were able to muster a scoring drive in the final minute before intermission. As the buzzer sounded, Kevin White knocked home a 22-yard field goal to put Central Kitsap up 10-7 at the half.
The second half quickly turned into a track meet as the elusive Sean Barefield was rewarded with an 11-yard TD run, on a drive that helped move the chains down the field significantly. However, the un-phased Riders scored six on their first play from scrimmage after the kickoff as Gleeson took a Calvin Smith toss over the middle 87 yards to the house. If this wasn't enough, Smith connected with tailback Noah Gold on a short screen pass at the Roosevelt 21 yard line only to take the rock 79 yards to the endzone after benefitting from great downfield blocking by his linemen. CK wasn't content with letting go of their lead, so Bates took matters into his own hands by running the ball in from the six yard line for a 24-20 edge. Before the third frame came to a close, RHS was on the move.
To open the final quarter, Roosevelt got in the end-zone for their fourth and final time on a 5-yard pass to Jackson Reavis in the corner. However, for the second time in the contest, special teams botched the extra point so the lead was two with virtually an entire quarter remaining. The time would wind down quickly as both teams turned to a conservative run game to set up a finishing move. With three minutes left, CK had their chance. With 85 yards between them and victory, they decided to run on first and second downs with no success. Third down was an incomplete pass and on fourth down, Bates aired it out but the ball was batted away. This allowed Roosevelt to move the chains once and assemble into the victory formation. Riders move on, Cougs hop on the ferry with another season in the books – FinalScore 26-24.
Top Performers:
Roosevelt
Ryan Gleeson – 87 yard TD reception, 40 yard TD run
Central Kitsap
Kaleb Bates – 40 yard pass TD, 6 yard TD run