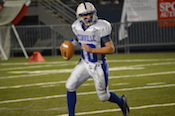 | Saturday | Nov. 29 | 2014 | 1A | Boys | Football |
| --- | --- | --- | --- | --- | --- |
| Tacoma Dome | 1st | 2nd | 3rd | 4th | Final |
| Eatonville | 0 | 0 | 7 | 7 | 14 |
| Cascade Christian | 14 | 7 | 7 | 14 | 42 |
Game Recap below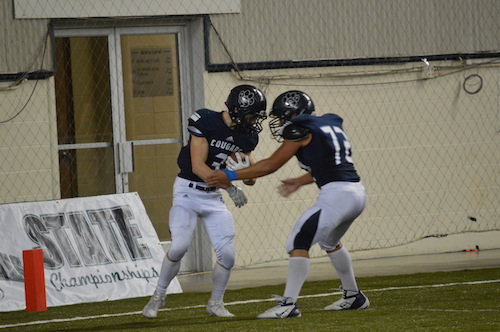 Cascade Christian Cruises to 1A Championship Game
By Steven Dion
One year ago, the Cougs that hail from the Puyallup Valley ended their season in the Tacoma Dome. Unfortunately for them, it was on a game winning overtime field goal by Mount Baker. This year, Randy Davis' Cougars refused to let history repeat itself. They advanced in the playoffs to earn themselves a chance to compete for the title next week with a win over the Eatonville Cruisers. Both teams had identical 11-0 marks heading into the contest. How would one team emerge to maintain the spotless record?
CCHS wasted no time getting their dynamic offense rolling. Jaelin Goldsmith connected with Bryce Powers on a 59 yard bomb with less than two minutes elapsed in the game. Their ability to throw the ball effectively opened up the run game and turned into a rushing score by Riley Ramos. The Cougar defense led by hard-hitting Mason Tobeck contained a run-heavy Cruiser squad and pitched a shutout in the first half. One more score by Cascade Christian in the first half by Tobeck brought the lead to 21 points heading into the locker room. But before halftime, Eatonville freshman Tucker Poil pulled off a rare feat. He intercepted a pass, but was stripped of ball as he tried to return it and turned it back over. On the very next play, he recorded another interception!
Eatonville needed to make changes at the intermission to climb back into the offense and the momentum slowly started to shift in Coach Fairhart's team's way. A seven-play, sixty-one yard drive was capped off with a 3 yard touchdown grab by Justin Brandt from Jacob McCormick. Eatonville was able to quickly get the ball back and drive into Cascade territory. A big gamble on fourth down deep in Cougar territory fell short for the Cruisers. Moments later, sophomore tailback Zach Bartolome took the rock 58 yards to retain a comfortable lead. Goldsmith found Powers in the endzone twice more from 14 and 15 yards out to complete the Coug scoring. In the final seconds, Eatonville's George Tomal scored a touchdown to get his team into double digits. Cascade Christian takes on Colville next weekend at the TDome.
The FinalScore – Cascade Christian 42, Eatonville 14.
Top Performers:
Cascade Christian
Jaelin Goldsmith- 10/22 ,235 pass yds, 4 TDs, 2 INTs
Zach Bartlome- 8 rushes, 140 yds, TD
Eatonville
Jacob McCormick- 11/26, 131 pass yds, 1 TD, 2 INTs
George Tomal- 5 rushes, 38 yds, TD