---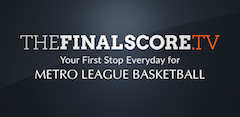 Hale Survives Late Scare, Wins SeaKing District
By Colin Caruso
Saturday- February 18th
2017
Boys
3A
SeaKing Final
Bellevue College
1st
2nd
3rd
4th
Final
Rainier Beach
11
20
25
28
84
Nathan Hale
14
32
16
26
88
---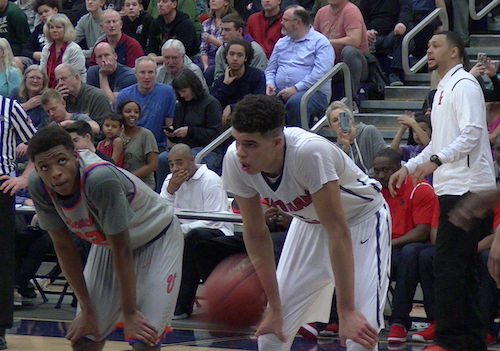 Jorell Saterfield & Michael Porter Jr.
In a packed Bellevue College gymnasium, with the SeaKing crown at stake, the #1 in the nation Nathan Hale Raiders faced off against the defending state champion Rainier Beach Vikings. The gym was electric to start the contest, but the play on the court didn't match the fans anticipation until much later in the game. A slow first quarter progressed into a 3-point shooting contest in the second, where Nathan Hale scored an astounding 32 points in 8 minutes. Rainier Beach did what they could to stick with the high octane Raiders, but Hale extended their lead to 46-31 at the break.
The gym knew that Rainier Beach and coach Mike Bethea would have tricks up their sleeve in the second half to get back in the game. The first half Vikings looked passive, comfortable with taking down the shot clock and attempting deep contested shots. The second half Vikings couldn't have been more of the opposite. Relentless attacks to the paint by Kevin Porter and N'Keil Nelson brought the mighty Vikings back into the game.
With just 4 minutes remaining on the clock, the Rainier Beach Vikings had tied the game, 69-69, the only tie since 0-0 at tip off. But Nathan Hale answered with a 14-4 run, capped by easy transition layups that left coach Bethea with his head in his hands. Coach Brandon Roy and the incredible Porter brothers, led by Michael Porter Jr. with 44 points on the night, capped off an amazing victory to win the SeaKing district. Now they are on to state, where Nathan Hale could go for their third title in as many weeks, but this one more sweet than the rest.
The Final Score
Nathan Hale 88, Rainier Beach 84
Top Performers:
Nathan Hale
Michael Porter Jr.- 44 points
Rainier Beach
Kevin Porter Jr.- 34 points