| Saturday | Nov. 22 | 2014 | 4A | Boys | Football |
| --- | --- | --- | --- | --- | --- |
| Mount Tahoma High School | 1st | 2nd | 3rd | 4th | Final |
| Bothell | 13 | 21 | 3 | 0 | 37 |
| Bellarmine Prep | 0 | 0 | 0 | 14 | 14 |
Game Recap below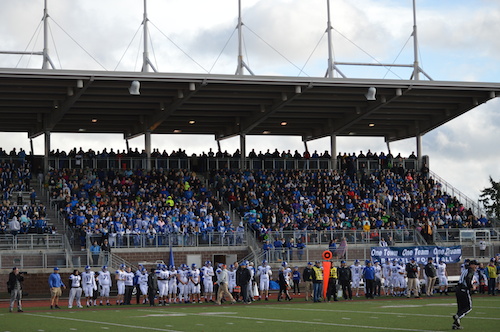 Same Matchup, Different Result Between Bothell, Bellarmine
By Steven Dion
364 days ago, Bellarmine Prep advanced to the state semifinals over Bothell in overtime. The Cougs had a shot at redemption Saturday as the perennial 4A powers squared off on Saturday at Mount Tahoma High School. Three weeks ago, Bainter's Cougs appeared to be on a fast-track to the Tacoma Dome whereas Prep was unlikely to make the playoffs after suffering a 49-0 loss to Gig Harbor at home. Since then, Bothell's star running back Sam McPherson is out for the season with a knee injury. Meanwhile, Tom Larsen's Lions have rattled off back to back road wins against #7 Kentwood and #1 Camas. Although undefeated, it is difficult to consider Bothell a clear favorite at this point. Bellarmine grabbed the victory last year as their defense had a monster game amassing four interceptions, a forced fumble, and a sack. Then junior Matt Philichi knocked a 37 yard field goal in OT to secure the win. Bothell wideout Dayzell Wilson had a reception touchdown in this contest. Round 1 was 20-17 in favor of Bellarmine. Did Bothell avenge last season's loss?
Coach Bainter clearly did not adjust his commitment to the running game without his workhorse McPherson as he fed his runners early and with great frequency. Caleb Meyer found an opening which led to a 24 yard touchdown to get early momentum. The enormous Bothell crowd roared as the "Blue Train" grabbed an early lead. Steven Weedin added a pair of field goals in the first frame from 30 and 35 yards. The choice to attack the north endzone played a big role for punts and place-kicking for Bothell in the first half with howling winds from the south. Leading 13-0, the Cougs continued the scoring spree when Ross Bowers connected with Dayzell Wilson from 61 yards. The domination continued as two more Bellarmine turnovers resulted in touchdowns to put Bothell up 34-0 at the break.
Even with a clear victory locked up for Bothell, Bellarmine continued to battle and found the scoreboard in the second half. Ahmad Lewis was rewarded for his strong running with a 6 yard touchdown. In the waning moments of the contest, Jared Richardson found Wilcoxen in the back of the endzone on a 29 yard strike to end the one-sided game on a good note for the Lions. Bothell advances to face the winner of Federal Way and Newport. The FinalScore 37-14.
Top Performers:
Bothell
Caleb Meyer-2 rushing touchdowns (5, 24)