| Saturday | Sept. 12th | 2014 | 3A | Boys | Football |
| --- | --- | --- | --- | --- | --- |
| Memorial Stadium | 1st | 2nd | 3rd | 4th | Final |
| Kennedy Catholic | 0 | 6 | 6 | 6 | 18 |
| Seattle Prep | 0 | 3 | 0 | 0 | 3 |
Game Recap below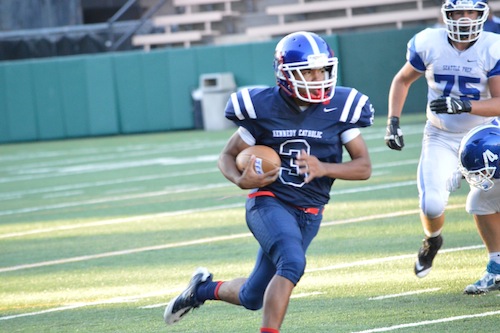 Lancers Pounce on Prep Panthers in Memorial Classic
By Steven Dion
The 1st Annual Memorial Football Classic got underway Friday night and continues Saturday as many of the teams reuniting with the Metro League square off against each other and other local teams. The event commenced with Seattle Prep and Kennedy Catholic from the Seamount League. Seattle Prep likes to play ground and pound football with their featured tailback Sam Kopf who is coming off a huge season opener against Cedar Park Christian. The Lancers also present a strong run game, but are on a by-committee basis which was highly successful on this night.
Field position was the main battle in the first half as both team struggled to get deep into enemy territory. JFK got onto the board via a Jr. Ngauamo score. The Lancers kept the Panthers off the scoreboard in the first half and the teams entered the locker rooms 6-0.
Seattle Prep sustained a drive early in the third which resulted in a field goal and cut the deficit in half. However, Kennedy's commitment to running the football overpowered the blue and white as Nick Galando and Liam Cheskon rushed for touchdowns. Give credit to the Lancer defense who held Prep to three points in the contest. Kennedy takes the victory 18-3.
Top Performers:
Kennedy Catholic
Liam Cheskon – Rushing TD