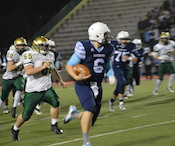 | Friday | Nov. 7th | 2014 | 3A | Boys | Football |
| --- | --- | --- | --- | --- | --- |
| Edmonds Stadium | 1st | 2nd | 3rd | 4th | Final |
| Auburn | 0 | 0 | 0 | 7 | 7 |
| Meadowdale | 14 | 9 | 7 | 0 | 30 |
Game Recap below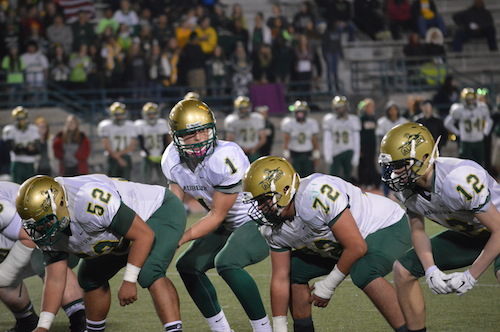 Meadowdale Grabs Early Lead, Never Looks Back
By Steven Dion
The postseason has arrived which means it's do or die for the final 32 teams in each classification. Edmonds Stadium served as the site for a 3A clash of SPSL and Wesco in Auburn and Meadowdale on a chilly Friday night. The winner would earn a ticket to the next stage against second-ranked Eastside Catholic. The Trojans came into the game playing their best football while the Mavericks were coming off a high scoring contest with Marysville-Pilchuck.
Auburn would receive the ball first and after a short drive were forced to punt the ball to the opposition. On the Mavs second play from scrimmage, Caleb Tinstand raced to a 55-yard touchdown on a quarterback keeper. This stunned the Auburn sideline. On the ensuing drive, the Trojans were stalled once again. On the first play of Meadowdale's second drive, Rory Spillum went the distance on a 46-yard run to give his team a two-possession lead. Was this game over before it started? Even before the teams would regroup at halftime, MHS added on a punt return block by Charlie White in the endzone for two and an 11-yard strike from Tingstad to White. The Mavericks led 23-0 at the half with little resistance by Auburn.
The second half opened with the Trojans pinning MHS deep and getting a crack at the scoreboard. However, untimely penalties dashed Auburn's hopes of finding the endzone and clawing their way back into the game. Meadowdale added insurance points as Tingstad found Malik Braxton on a vertical route down the sideline for 59 yards and a score. The line of MHS including Timothy Smith, Garrett Walsh, and Charlie White opened big gaps for their tailbacks and were able to stop the motion-heavy running game of Auburn on the defensive side of the ball. The Trojans did not hang their heads as Justin Ioimo put his team on the board on an 11-yard QB sneak in the waning minutes of the game. Ioimo also had a fantastic interception early in the game. The backfield of Deshawndre Appleton and Avery Wade played tough despite an overpowering defensive line against them. When the dust settled, Meadowdale ran away with a dominant 30-7 win earning them a playoff rematch with the red-hot Crusaders.
Top Performers:
Meadowdale
Caleb Tingstad – 2 passing TDs (11, 59) 1 rushing TD (55)
Auburn
Justin Ioimo – 11 yard rushing TD